Garcia Limited Edition Tiger
This is the custom hand-built version of Jerry Garcia's Tiger that D Irwin Guitars may have eventually offered to the public. As one of the original designers I couldn't be more pleased with the outcome and as a builder I couldn't be more proud! It has always been my belief that the greatest art is always achieved through collaboration.
Only 21 serial-numbered Garcia LE's will be created over next few years.
Body: 11 piece multi laminate exotic hardwood
Hand carved Cocobolo top
Cocobolo back & matching electronics back plate with Curly Maple binding
9 piece laminate body core comprised of .038 Maple veneer/.062 Vermillion /.062Maple/.062Vermillion repeats on both sides of a .075 Curly Maple center
Neck: 7 piece multi laminate neck comprised of .075 Curly Maple/ .038 Purple Heart veneer/.038 Maple Veneer/.625 Vermillion/.038 Maple Veneer/ .038 Purple Heart veneer/.075 Curly Maple
Headstock: Ebony faceplate (Brass/Mother of Pearl/Abalone) Globe – Eagle logo inlay
Back of headstock multi laminate Veneer overlay, Purple Heart / Curly Maple
Fingerboard: 24 fret 25 ½ "scale Ebony fingerboard with Mother of Pearl inlays
Dual action truss rod
Scallop solid Brass stringnut
Electronics: DiMarzio pickups and Garcia OBEL electronics package, stereo cord
Hardware: Brass / Gold plated: Hipshot locking gears, substrate pickup mounting ring, Gold plated solid brass Harmonica Bridge, custom Gold plated solid brass tailpiece, vintage era Gold-plated solid brass strap buttons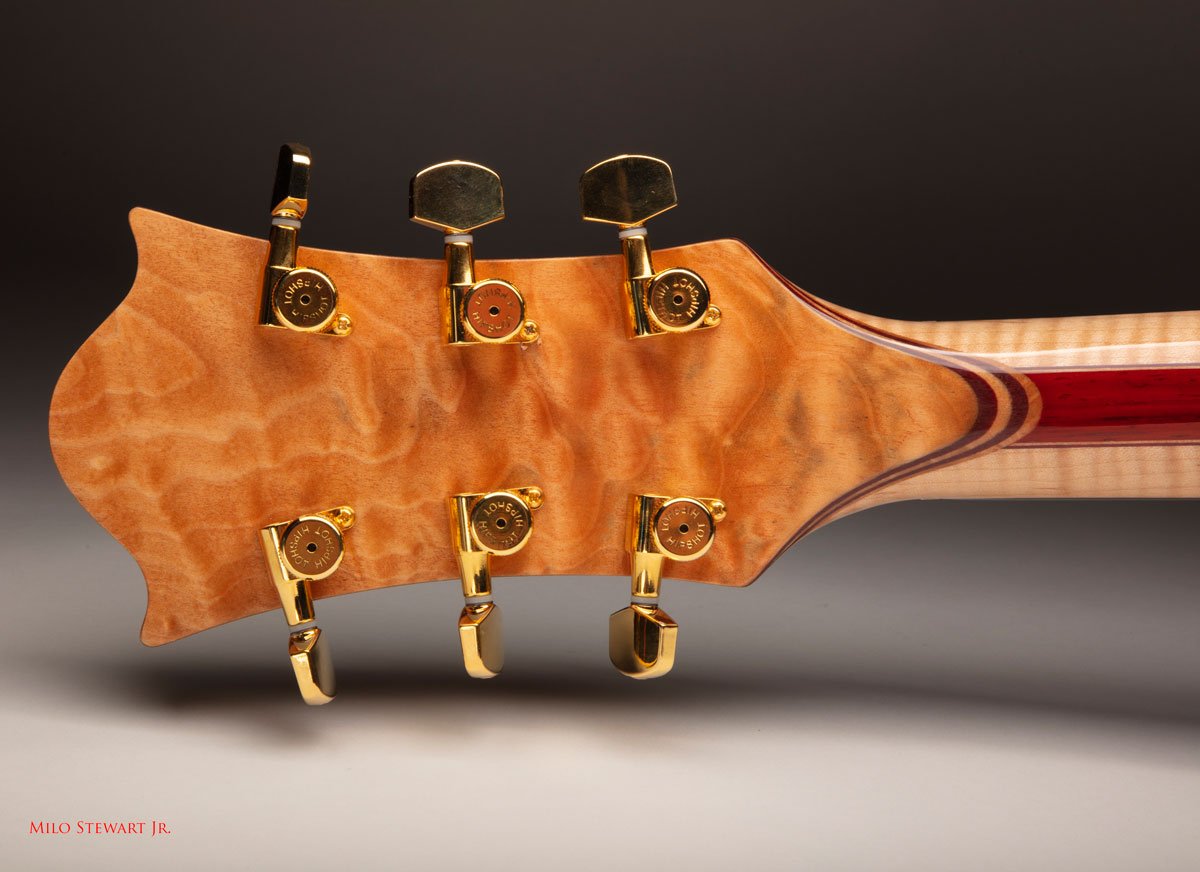 Total Length:  40 ½ inches

Body length: 16 ¾ inches

Upper bout width: 12 inches

Lower bout width: 13.625 inches

Thickness: 2 inches

Neck: 24 fret 25 ½ inch scale

String Nut width:  1 5/8

Fingerboard end width: 2 5/32

Weight: 10+ lbs

Hardware: Gold plated

Hip Shot Locking tuning gears

"Garcia" bridge and Tailpiece

Large strap buttons

Barrel knobs, both single and concentric

Custom scalloped brass string nut

Eletronics: OBEL package

CAE CB 1 buffer

DiMarzio two DP104 super 2's plus one SDS-1 DP 111

Humbucking coil selection, Series/Single coil/Parallel

Master volume, tone for each pickup

5 position pickup selector switch

OBEL on/off mini switch

Stereo cord provided for OBEL operation
RESERVE YOURS NOW
$16995.00. 1/3rd deposit down of $5665.00 and the case is included. Please allow 4-12 month build time.
All instruments built and produced by Thomas Lieber.
You receive personal customer service and 100% satisfaction guaranteed from the designer of these premium quality items. Lieber Guitars has been helping create the tools for Musicians since 1973
info@lieberguitars.com
(607) 437-2614
INTERESTED? REACH OUT TO TOM