Our Coco (Summer of Love) guitar model evokes much of Jerry's original Tiger. Cocobolo and Curly Maple always make a striking presentation! A wood selection created specifically for Jerry Garcia by Doug Irwin. Every instrument displays our continued tradition of craftsmanship and the high standard of quality set forth over four decades ago by D Irwin and Company! Our guitars are created utilizing the same patterns and template techniques Doug and I employed in 1975.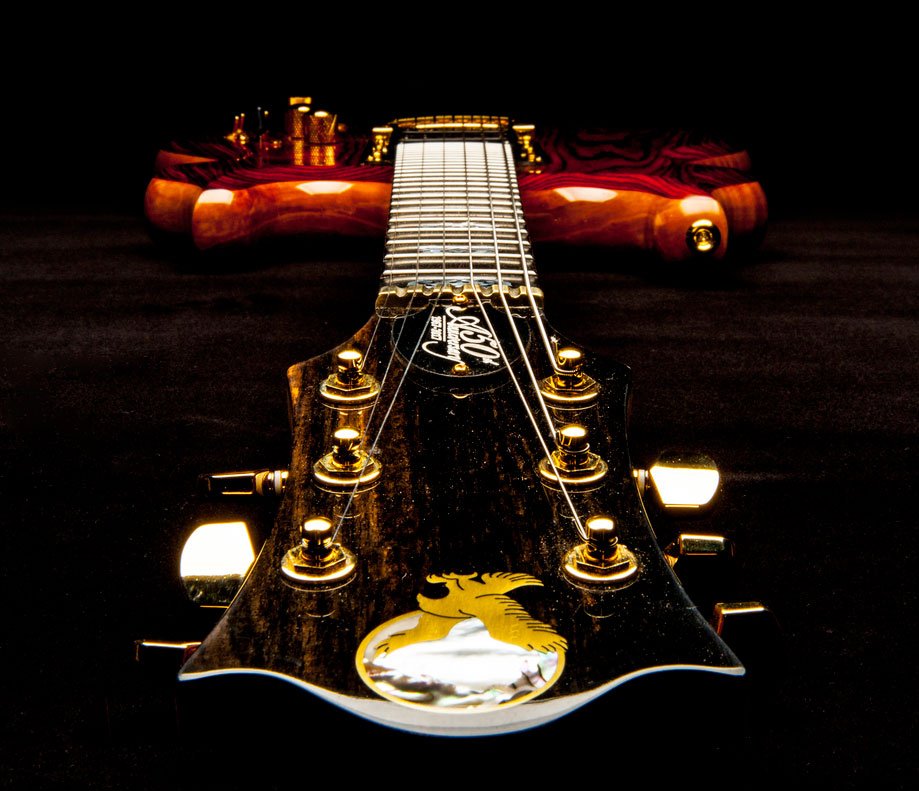 RECOLLECTIONS FROM THE LUTHIER
It was June of 1974. My wife and I were 20 years old when we jumped in our VW van and headed West. Seven years had passed since the fabled "Summer of Love." The musicians who laid the foundation for our generation's counter culture had now become young entrepreneurs. Their hands and money fused within the art, creative process, and business with many eclectic ventures. Alembic Guitars was one such venture. It drew my attention as an aspiring musician, the son of a mortician, who would fatefully cross paths with The Dead.
After safely arriving in San Francisco, I approached Alembic regarding a possible apprenticeship but, unfortunately, was denied. They had all the hands they needed at the time. Luckily, one of the staff mentioned there was a builder who recently left Alembic to go off on his own. Jerry Garcia took a liking to that particular builder's approach and style, which gave him the confidence to leave Alembic and start his own thing. My wife and I had come a long way and this lead was our best bet.
I found Doug Irwin living in an old farm house with his wife and two young children. The shop was a chicken shack maybe 10×10 in size. He had no need or even the inclination to take on an apprentice. However, he was obviously in need of a helping hand, so I told Doug I was here to learn the art of guitar-making and I wasn't going anywhere. I remained there for three years, and for the first two, I worked without pay, embracing the opportunity to learn. And it was with grace that my wife supported us both during this period. Early 1975, in the living room of the old farm house, Doug and I drafted several new ornamental guitar body designs. One of them, which we coined, "Our generation's Les Paul" was "The Garcia" later known as Tiger. Over 40 years later, she's a legend.
As a young musician and artist, it was never my goal to become Geppetto. But through my journey west, and developing as a builder it was unbelievable to one day witness our little Pinocchio becoming a real tiger. The guitar that went on to inspire a laid back dude just like you and I. And it is through the music, that he and his comrades brought us all closer to realize we are one family!
I am grateful and I am thankful to Doug for the formative years at the farm house. I am grateful and I am thankful to Jerry, Bobby, Phil, Billy, Mickey, Pig Pen and the extended family of Grateful Dead musicians. What the public may not understand is that none of this would have been possible without the tremendous and at times severe sacrifice of the families and loved ones, who were unconditional in their support. These truly are remarkable individuals we should also revere!
Body: 1/4 inch Cocobolo top / back, 1 1/4 inch curly (tiger) Maple core
Neck: Laminated quartersawn (tiger) Maple
Headstock: 1/8 Ebony faceplate, Eagle/Globe logo, Figured Quilted Maple/Walnut veneer backside of headstock
Fingerboard: Ebony / Tiger Mother of Pearl inlay pattern, 24 Fret 25 1/2 inch scale
Electronics: DiMarzio pickups and Garcia OBEL electronics package, stereo cord
Hardware: Brass / Gold plated: Schaller locking gears, substrate pickup mounting ring, brass Gold plated Harmonica Bridge, custom brass Gold plated tailpiece, brass string nut, brass Gold-plated large strap buttons
Total Length: 40 ½ inches

Body length: 16 ¾ inches

Upper bout width: 12 inches

Lower bout width: 13.625 inches

Thickness: 1 3/4 inches

Neck: 24 fret 25 ½ inch scale

String Nut width: 1 5/8

Fingerboard end width: 2 5/32

Peghead angle: 11 degrees

Weight: 9.5+ lbs

Hardware: Gold plated

Schaller Locking tuning gears

Kluson "Garcia" bridge and Tailpiece

Large strap buttons

Barrel knobs, both single and concentric

Custom scalloped brass string nut

Eletronics: OBEL package

CAE CB 1 buffer

DiMarzio two DP104 super 2's plus one SDS-1 DP 111

Humbucking coil selection, Series/Single coil/Parallel

Master volume, tone for each pickup

5 position pickup selector switch

OBEL on/off mini switch

Stereo cord provided for OBEL operation
RESERVE YOURS NOW
$8200.00. Half deposit required ($4100.00). Please allow 4-8 month build time.
All instruments built and produced by Thomas Lieber.
You receive personal customer service and 100% satisfaction guaranteed from the designer of these premium quality items. Lieber Guitars has been helping create the tools for Musicians since 1973
info@lieberguitars.com
(607) 437-2614
INTERESTED? REACH OUT TO TOM